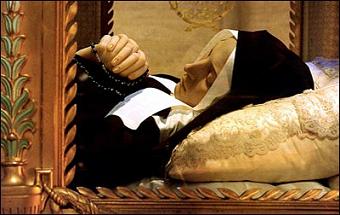 The incorruptible cadaver of Saint Bernadette.
Swiss Guards in Renaissance finery; solemn monks holding candles; a male choir chanting in the occult tongue of Latin; the anguished faithful, wracked with grief, clasping their hands in prayer or seeming to clutch at the passing bier; and, at the center of this deeply pagan drama, the flesh made word—the dead pontiff, caught in mid-flight between the mortal and the marmoreal, the all too human and the already hallowed. Joel-Peter Witkin, eat your heart out: Nobody does High-Gothic spectacle like the Vatican.
"Smells and bells," believers call it: the ritualized technologies of mass mind control. For centuries, no institution was more masterfully skilled at manufacturing the consent of the illiterate million than the Catholic church.
In Rosemary's Baby, the friendly nieghborhood Satan-worshippers, Roman and Minnie, are thoughtful on this point:

Roman: No Pope ever visits a city where the newspapers are on strike.

Minnie: I heard he's gonna postpone and wait till it's over.

Guy: Well, that's show-biz.

Roman: (chuckling) That's exactly what it is. All the costumes or rituals, all religions.