I'm currently at work, for Little, Brown, on a biography of the artist, writer, stage designer, playwright, and legendary eccentric Edward Gorey. Its working title is The Doubtful Guest, taken from Gorey's tale of a droll, penguin-esque creature with Trickster DNA—a Gorey alter ego, right down to the signature opera scarf and high-top tennies—whose deadpan lunacy wreaks havoc on the buttoned-down domesticity of a staid Edwardian family.
Gorey, who died in 2000 at 75, was the unequaled master of—of what? Gothic whimsy? The high-camp macabre? Existential black comedy in the Firbankian mode? Essentially unclassifiable, he was, at the end of the day (and it's always twilight, in Gorey's stories), simply, inimitably Edwardian. His influence reverberates in the novels of Lemony Snicket, the movies of Tim Burton, the fashion of Anna Sui, the annual Edwardian Ball, and the fantasy lives of numberless fans who would live, if they could, in his obsessively crosshatched, amusingly lugubrious little worlds.
The book is scheduled for publication in 2017.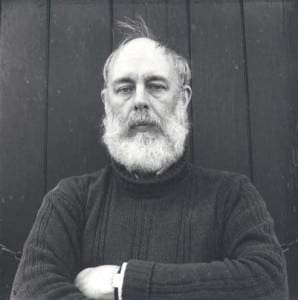 From Publisher's Weekly, an announcement of the deal:
"Cultural critic Mark Dery's THE DOUBTFUL GUEST: The Mysterious Mind and Legendary Life of Edward Gorey, the first true biography of Gorey, one of the distinctive literary forces of the last half of the twentieth century, looking at his impact on children's literature, illustration, and popular culture, to Michael Sand at Little, Brown, at auction, in a good deal, by Andrew Stuart at The Stuart Agency."
(Photo of Edward Gorey: Michael Romanos; copyright Michael Romanos, all rights reserved.)
In March, 2011, the The New York Times ran my feature on Gorey's posthumous popularity and his mounting influence on pop culture.
Teaser:
Gorey was born to be posthumous. His poisonously funny little picture books — deadpan accounts of murder, disaster and discreet depravity, narrated in a voice that affects the world-weary tone of British novelists like Ronald Firbank and Ivy Compton-Burnett — established him as the master of high-camp macabre.

Told in verse and illustrated in a style that crosses Surrealism with the Victorian true-crime gazette, Gorey stories are set in some unmistakably British place, in a time that is vaguely Victorian, Edwardian and Jazz Age all at once. Though Gorey was a 20th-century American, he conjured a world of gramophones and cars that start with cranks, of boater-hatted men in Eton collars knocking croquet balls across the lawn while sloe-eyed vamps in cloches look on, and sinister things sink, bubbling, into the reflecting pond. His titles are instructive: "The Fatal Lozenge," "The Deadly Blotter," "The Hapless Child," "The Haunted Tea-Cosy."
Photo: Chris Seufert. All rights reserved.
Update: Boinged!